ASM-BIFA-HMRC CDS Seminars
ASM, alongside BIFA and HMRC, ran a series of seminars ahead of the phased launch of the Customs Declaration Service (CDS), the system set to completely replace the existing system for Customs declarations in the UK.
Agency Sector Management (ASM), the British International Freight Association (BIFA), and HM Revenue and Customs (HMRC) combined efforts to offer advice and guidance to businesses affected by the implementation of the new CDS system.
These seminars addressed the following:
What CDS is
Why it is being introduced
When it is happening
How it will affect your business
Click on the picture below
to view or download the
presentation slides
used in the seminars.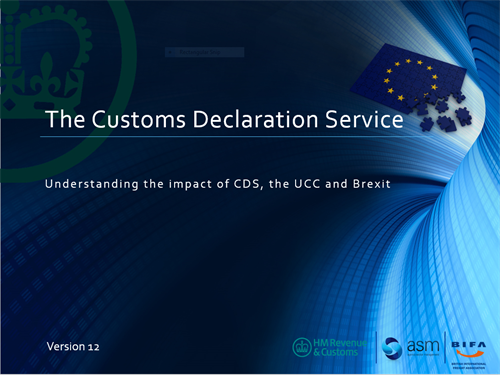 If you have attended one of the seminars and have not yet given us your feedback, we would be very grateful if you would take a minute or two to answer some questions about the event. You can do this by simply clicking this link.
The seminars have resulted in numerous questions from attendees.
All these questions are logged and answered during the event where possible. Where an immediate answer is not possible, the questions are taken away and researched before answers are provided.
Click the link below to view the latest document.
Please note that this is an evolving document. It will change as more questions are added, more answers provided and clarification is received for some of the answers already given.