Brexit! What on earth is going to happen at Dover?
A lot has been said recently about the chaos that will ensue at Dover and other 'RoRo' (roll-on, roll-off ferry) ports if we leave the EU on 29 March without a deal.
That scenario would see all trade of (what was) intra-EU goods immediately requiring a customs declaration for import or export. That will inevitably mean more bureaucracy which in turn would lead to delays as trucks have to wait for clearance.
By far and away the greatest volume of RoRo traffic between the UK and EU goes via Dover (over 7,000 lorries per day in 2017) and there are legitimate concerns that Stop24 and similar facilities will be overwhelmed if all vehicles requiring clearance must use them and their associated inventory systems. Currently vehicles carrying only 'EU' goods can essentially just drive on and off ferries.
There has been plenty of scare-mongering and media coverage of the impending crisis but very little if anything from HMRC to reassure the trade that the M20 won't be turned into a car park all the way back to London and beyond, with one lane of the M25 used for lorries circling!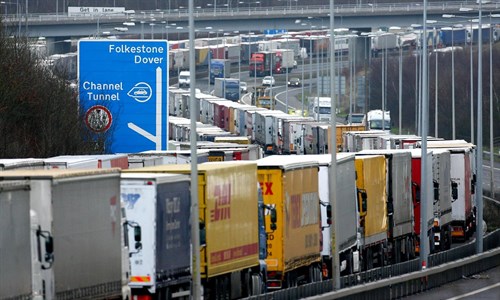 We do however understand from HMRC sources that there are plans in place for RoRo traffic in the event of a 'no deal' Brexit, and that those plans (for the UK side of the border at least) do not involve inventory systems or mandatory reporting to the frontier for either exports or imports. 
Those plans also do not initially involve CDS, the new declaration processing system being developed to replace CHIEF. Despite anything you may have heard, that new system is not going to be ready by the time we leave the EU.
For imports of EU goods, the plan involves all goods being declared (a pre-lodged non-inventory linked declaration) prior to the ferry arriving in the UK. On arrival, the trader 'arrives' the declaration and, only if the goods are selected for examination, the vehicle will have to report to customs. Otherwise the driver can carry on to his/her destination as they do now.
For exports, pre-lodged declarations will be required (as is currently the case for all third country exports) but for RoRo exports, these will be declared as 'arrived'. If the declaration receives 'permission to progress' (P2P) then the vehicle can proceed to the ferry as now. If selected for examination, the goods will have to be presented to customs.
These plans, on paper at least, would reduce the number of vehicles reporting to customs at the frontier to (hopefully) manageable levels but there are still question marks over whether they would work in practice. 
There's also the question as to whether UK exports to the EU would require an Entry Summary Declaration (for safety and security purposes) – as is the case for all third country goods entering the EU by any mode of transport. That declaration is normally made by the 'carrier'. Current information from HMRC suggests that this will apply to RoRo goods from the UK also.